Support Our Runners
100% of your donations go to cancer research.
The 17th annual Hit the Bricks for Brian took place from Monday, September 28th through Thursday, October 1st. Thank you for joining us for a week of safe and socially distant events! Your efforts support innovative cancer research at Wake Forest Baptist Health! You can catch up on everything on Instagram!
2020 by the numbers
124 total teams
1050 total participants
7,933 miles run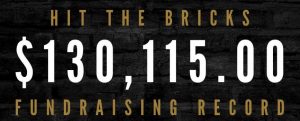 Thank you to everyone who contributed!!
Top 10 Teams
| Rank | Team | Amount Raised |
| --- | --- | --- |
| 1 | 401 plus a million | $11,771.00 |
| 2 | JBASE | $10,370.00 |
| 3 | Theta Chi | $7,189.99 |
| 4 | Class of 1990 Overachievers | $3,990.00 |
| 5 | Run, (wake) Forest, Run | $2,935.00 |
| 6 | Individual Participant | $2,895.00 |
| 7 | Luter Ladies & Lads! | $2,870.00 |
| 8 | ASIG HTB | $2,841.00 |
| 9 | Hit the Bricks Exec | $2,460.00 |
| 10 | Running Club 1 | $2,265.00 |